By Megan Kearney | May 1, 2017
After his mother died, he had to quit basketball and get a job to pay the electric bill. Anger replaced tears. His friends were getting arrested for "unimaginable crimes." There had to be more.
It's too early.
Revel Lubin reluctantly slinks out of bed to avoid his sister and legal guardian, Maude, telling him he'll probably be late for school—the last place he wants to be.
School wasn't a priority for the 11-year-old middle schooler, who spent most days cursing at the staff in the dean's office.
"Why do I have to know Newton's Law if there's nothing to eat at home?" Lubin thought. "Why do I have to know the circumference of something when the electricity might not be on at home?"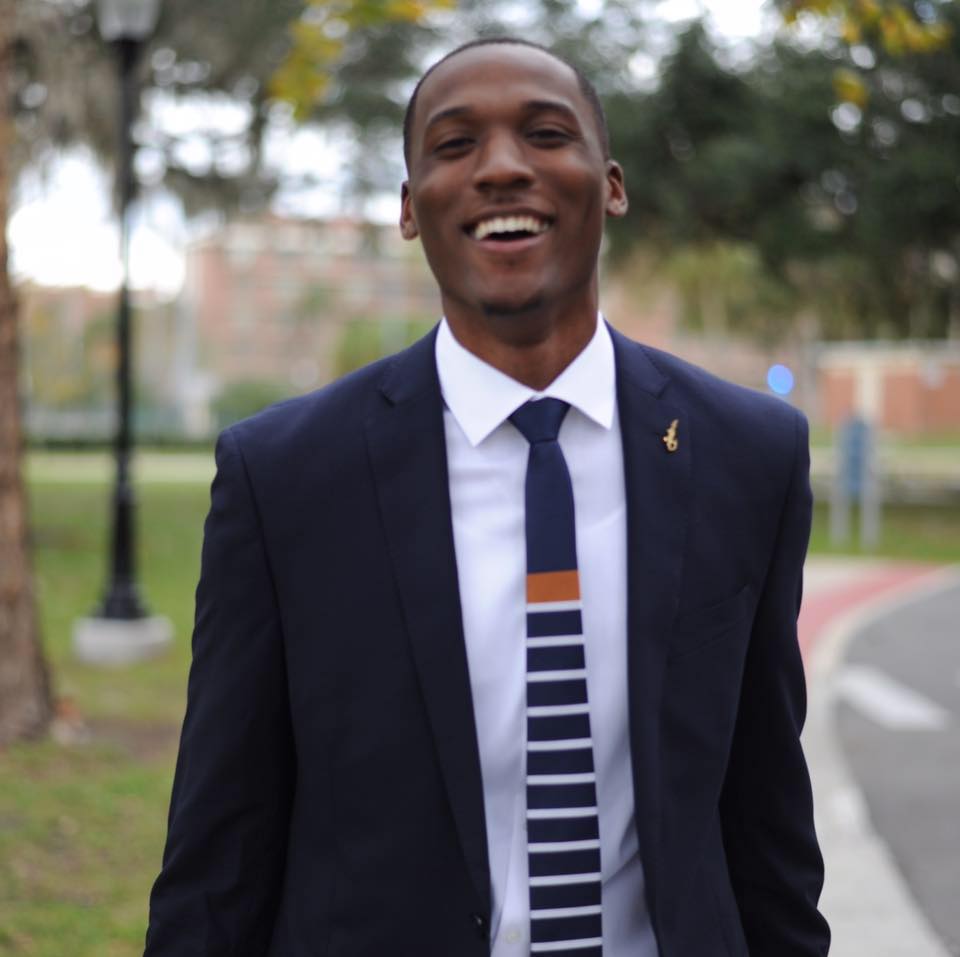 Most students Lubin's age didn't have to think about adjusting to life after suddenly losing their mother like he did.
Few people in his Orlando neighborhood had a father figure; that was a social norm. But life without a mother would change him forever.
After taking custody of her four younger siblings, his sister's world would be turned upside down. Lubin recalled Maude, then 24, spending nights crying in the shower so her siblings wouldn't hear her.
She felt thrown into a role she wasn't ready for, and with little support. She knew she could never replace her mother.
"It was like I was a puppet or mannequin," Maude said. "I was just going through the motions. It was the only way I could be what they needed without showing weakness."
Lubin knew, though. He felt her struggles, anguish and pain.
He was the third youngest of ten, but he still felt completely alone.
"I don't care about anybody, and nobody cares about me."
One thought, he said, played on an endless loop in his head: "I don't care about anybody, and nobody cares about me."
Maude recalled Lubin channeling his pain through anger rather than tears.
From the age of 11, he was forced to do everything for himself. He knew that if he asked for help, nine times out of ten, people wouldn't have the means to help him. The extended family—his aunties and uncles he thought he could rely on—quickly disappeared.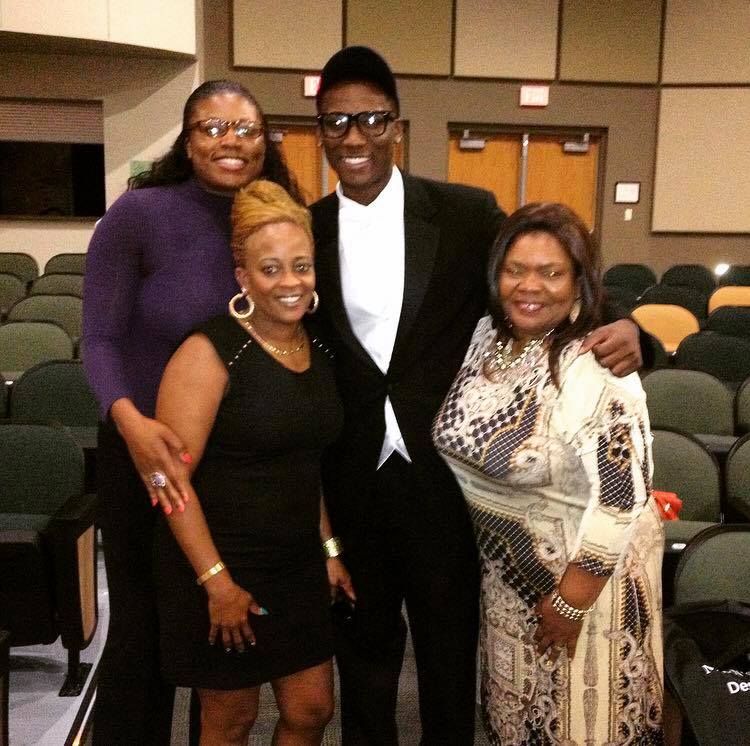 He felt betrayed.
With nobody to fully lean on, Lubin's role models became drug dealers and petty criminals.
The dean's office became Lubin's classroom. He spent his days slumped in a chair with Auntie Upson and Ma Davis, as he liked to call them, who worked in the office. No matter how often he cursed them out, they were always on his side and willing to listen, he said.
"He needed some tough love," said Auntie Upson, whose real name is Rynette Upson Bush. "And that's one thing he always got from me."
Upson recalled days where Lubin would be sent to her office, angry and annoyed.
She knew, she said, that he was ready to throw in the towel, but she refused to let him.
"I just talked to him about kindness," Upson said. "He was always a leader, but for the wrong reasons. I encouraged him to lead in a more positive way and to find something to be passionate about."
And so he did.
In seventh grade, Lubin joined the basketball team. For the first time, he felt as though he was a part of something; the way he felt while playing gave him something to believe in.
His troubles faded away on the court, but his behavior continued in the classroom to the point where he wasn't able to play in a game.
His coach, John Simmons, knew something had to be done.
"What's wrong?" he asked his player.
"I don't care," Lubin replied.
"Do you think they cared when they pulled the trigger?"
"Think about this. You know somebody right now in prison who killed someone. Do you think they cared when they pulled the trigger?"
"No."
And then, this: "It takes one second of you not caring for your whole life to change."
In that moment, Lubin said, everything changed. He didn't know it then, but the conversation he shared with Coach Simmons would alter the trajectory of his life.
---
It's too early.
Lubin still struggled to get out of bed—typical for any 17-year-old—but as he grew older, he began to resent school less.
At Oak Ridge High School in Orlando, Lubin traded his days in the dean's office for time spent on the court or the field as a student athlete. He desperately hoped that sports would be a one-way ticket to greater opportunities.
His dreams were put to a halt when one day, after football practice, he came home to darkness.
The electric bill hadn't been paid.
He knew in that moment that he needed to step up for his younger siblings.
He walked away from his first love, basketball, and quit football to search for a job and help his family make ends meet.
It would've been easy for him to get involved with the kids who sold on the street. Dealing was a quick way to earn cash, and he had connections.
Instead, he landed a job at Lacoste in the Orlando Premium Outlets. He kept the fact that he quit sports a secret from his peers.
One day, a teammate spotted him folding shirts at work.
"What are you doing?"
"I gotta work, man," Lubin said. "You know how it goes."
"We miss you out there on the field."
Lubin missed his teammates, too.
In the weeks after he quit, Lubin avoided sporting events altogether—especially basketball. He saw someone else wearing his jersey, and wished more than anything that it was him who was sweating on the court.
"Understanding who and what I was working for was more important," Lubin said. "Buying groceries, helping with the light bill; every little bit helped."
Even before he quit sports, though, Lubin worried about his future.
He had injured his knee in basketball, and he began thinking often about how a major injury could affect his hope of "getting out."
One by one, he began to see his peers and friends drop out
of school and get arrested for unimaginable crimes.
"There has to be something more. I need more for myself."
"Man, what am I gonna do?" Lubin thought. "There has to be something more. I need more for myself."
And there was.
Lubin began to focus on the Student Government Association. He developed a close relationship with his
advisor, Mark Noel, who also coached Lubin in tennis at Oak Ridge.
Coach Noel believed in Lubin just as his middle school role models did. He knew he was destined for greatness.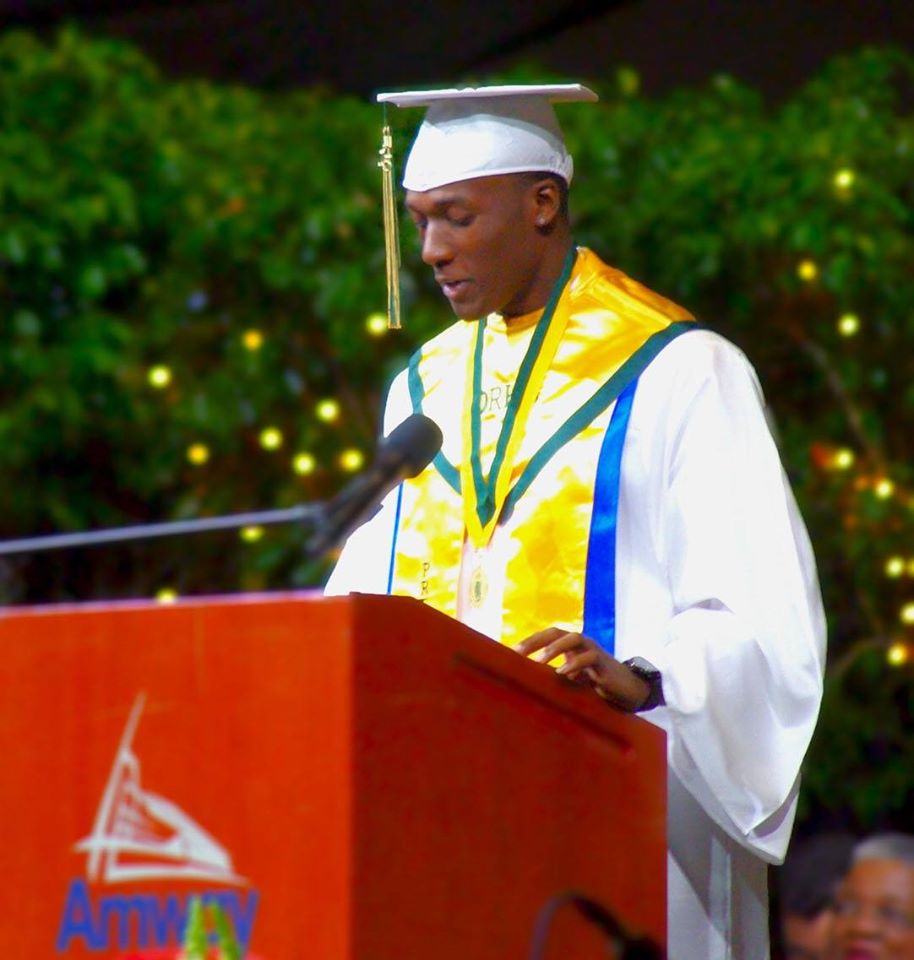 By Lubin's junior year, he was the Student Body President, and he carried the title through his senior year. He related easily to everyone at Oak Ridge—the thugs, the rough guys on campus, the athletes, even the introverts. He saw a bit of himself in people he interacted with, and knew how to identify with them on a personal level.
Although his middle school habits changed and he was attending class, Lubin could not look at the world through the eyes of a carefree teenager. Other people's burdens became his own: the kids who had no cash for food, the girl who didn't have a bed to sleep in, the 88 students at Oak Ridge who were registered as homeless.
"I can't focus in class knowing that all of this is going on," Lubin cried as he sat in Coach Noel's classroom and confided in him.
"The world is so messed up, and I need to go fix it."
He decided to make a change in his community and organized a food drive for the homeless students at his school. With over 90 percent of the students at Oak Ridge on free and reduced lunch, Lubin knew he could make a difference.
"A lot of the students went to school just for the free lunch, not the education," Lubin said. "These were the people in the classrooms I was sitting in and they didn't even have a home to go to."
Lubin had first-hand experience of what it was like to be in need and to feel helpless.
He didn't want people to have to feel the burdens he had become accustomed to after his mother passed away.
He made it his mission to serve as many people as possible.
And he did.
---
It's too early.
Like any college student, Lubin sets his alarm for 7:30 a.m. with the intention of getting an early start on his day.
Snooze.
Snooze.
It's 8:30 now, but he convinces himself to get out of bed.
"In grade school, I was always like, 'I just have to go'," Lubin said. "College is different. It's all self-motivation."
Before graduating from Oak Ridge, though, Lubin viewed college as a distant, unattainable dream—especially attending the University of Florida.
"You're going to college," Coach Noel told Lubin. "Don't worry about that."
Coach Noel was right. When Lubin least expected it, a door opened for him.
Through serving others at the food drive, an organization came across his story and wanted to help. The Elevation Scholars Program was aimed at walking high school students through the college application process, and with their help, Lubin had multiple schools to choose from.
"I didn't have a mom or dad to come home to who knew anything about applying to schools."
"I didn't have a mom or dad to come home to who knew anything about applying to schools," Lubin said. "I didn't even know where to begin, but they helped with everything."
After years of struggle, Lubin finally had his way out.
He chose to attend the University of Florida to stay close to his younger sister, Kyla, 17, who viewed him as the father figure in her life.
"It's not too far from home, so I can still be there for her," Lubin said. "That really sealed the deal for me in deciding where to go."
In the ten years since his mother passed away, Lubin's role models shifted—from the boys on the street to the educators who, over the years, showed him a path he never thought he would be able to walk on.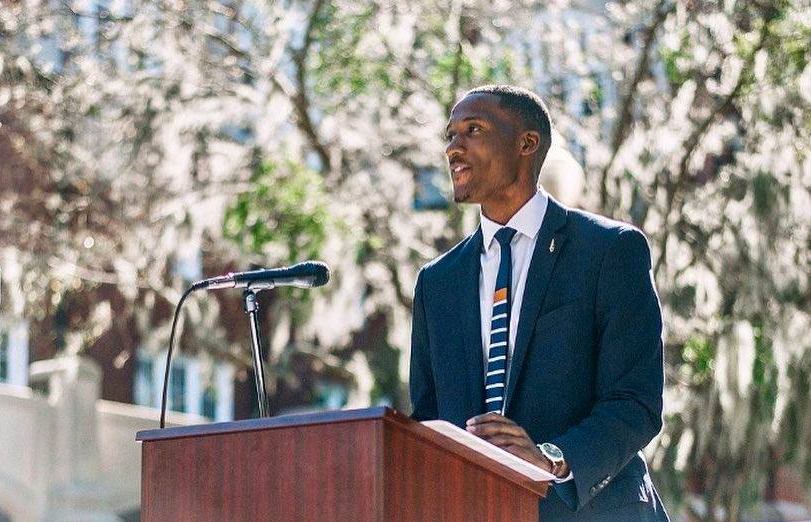 One of those earliest mentors still speaks with pride about her role in Lubin's life.
"His support system made the biggest difference in his life," Auntie Upson said. "Even though his parents were taken away, he had so many people to lean on who really pushed him."
Those mentors continue to cheer him on, encouraging him to serve others throughout his college experience.
"Everything I do is personal," Lubin said. "I've learned the importance of service because I've dealt with the most trying times."
As the newly elected UF Student Body Treasurer, the sophomore majoring in criminology and law and African-American studies utilizes his leadership role as a platform to give a voice to those who may not be willing to speak for themselves.
He still thinks about the boy who didn't care, but that person is a distant memory now.
And just as the thinking stops and his long day ends, it's too early again.