When a homeless encampment is shut down, one woman fights to find home.
The people who call Dignity Village home share thie stories.
In one Florida city, strict policing pushes homeless population out.
A homeless woman helps make sure others don't stay invisible.

In Its Endeavor To End Homelessness, Gainesville Begins Dismantling An Encampment That Had Become A 'Broken Piece' In A System Of Care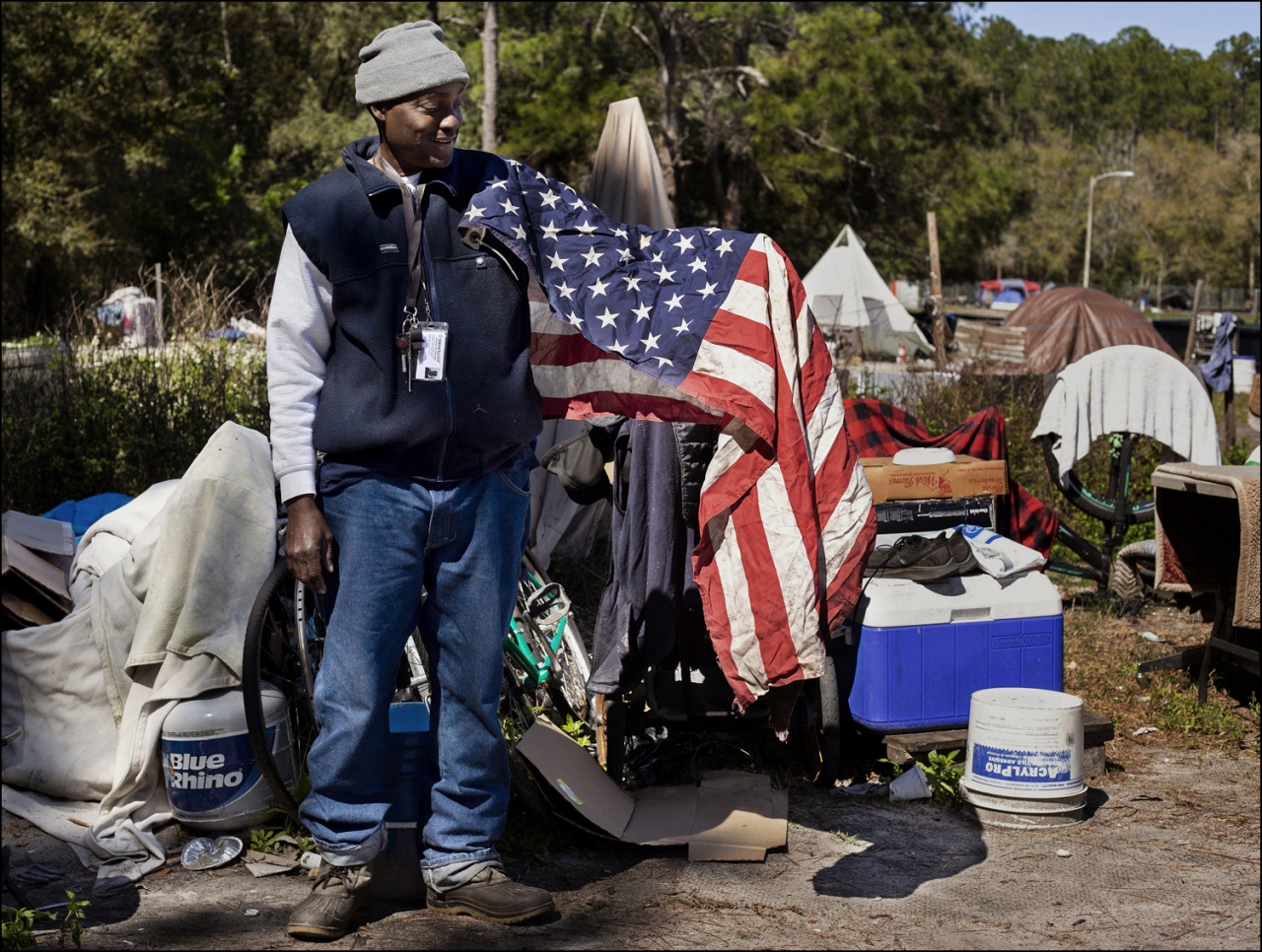 Story by Everitt Rosen | May 1, 2020
By now, all the tents that rose on the outskirts of town were supposed to have been gone. By now, the 200, probably more, people who sought shelter there were also supposed to have been gone, no longer the community that came to be known as Dignity Village.
They were the homeless of Gainesville and Alachua County and over the years, their numbers had grown at the encampment off Waldo Road. But commissioners decided the fate of Dignity Village a year ago, in May 2019, when they voted unanimously to shut it down. An encampment like Dignity, they believed, was not a viable solution to solving homelessness.
The shuttering of the tent city was well in place, delayed only by the threat of the COVID-19 pandemic. The novel coronavirus has paused the relocation of the last few Dignity residents into GRACE Marketplace, Gainesville's largest homeless shelter that sits about 100 feet away, on the other side of a chain-link fence. On March 20, the shelter announced a voluntary quarantine and stopped accepting new residents on the campus.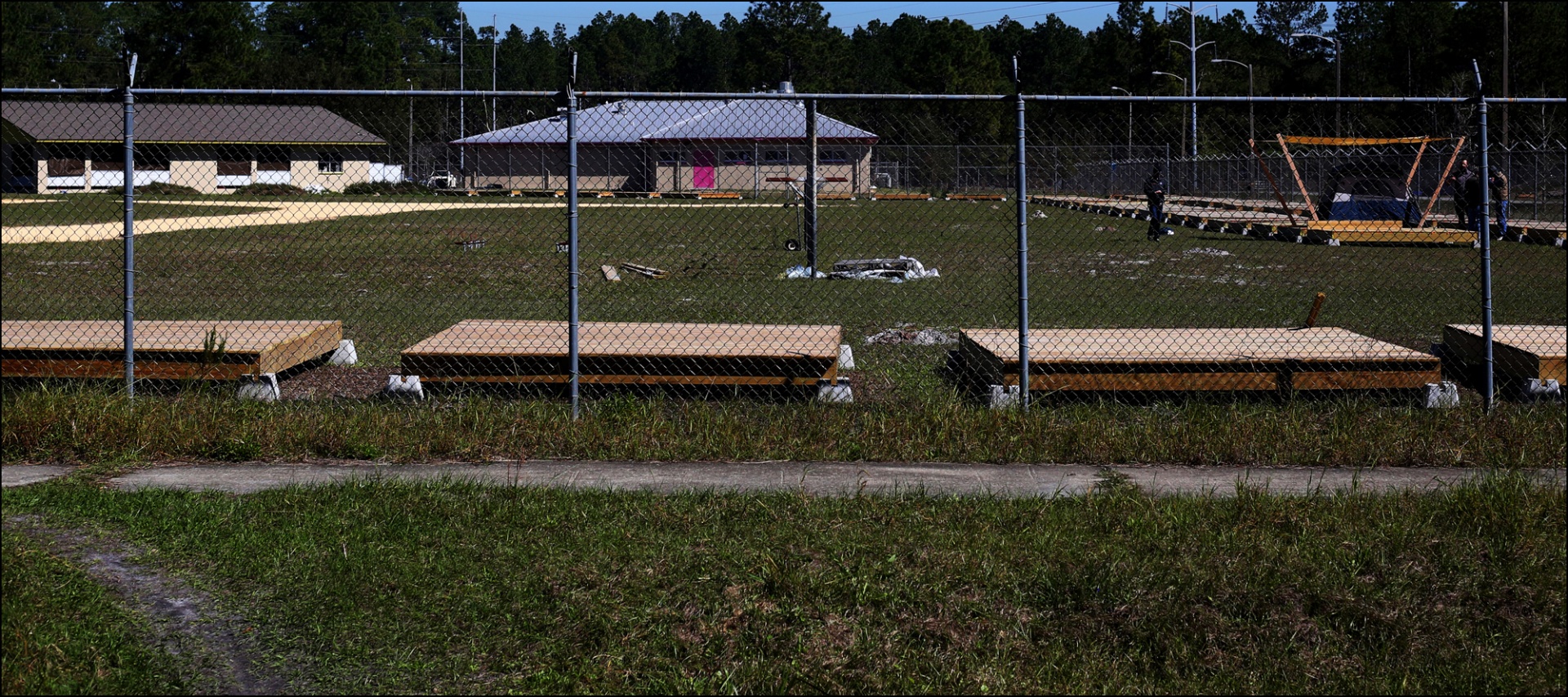 Dignity's closure was intended to give residents a temporary campground within the GRACE compound before they could be moved into permanent housing.
The slow shuttering of Dignity, which began last fall, sounded seamless on paper. Reality was different.
Many residents were wary of moving inside the fence; they saw the GRACE campus, built in a former jail facility, as confining. Some said they would be forced to seek shelter not at GRACE but elsewhere. Maybe they'd move into the woods, hidden from society. Forgotten, even. Stress and fear were not uncommon as the dismantling of this homeless community swung into full gear. All of it was heightened by the coronavirus.
There were, of course, easier ways to get rid of Dignity Village. Do what other cities have done, and call in the cops and bulldozers. Evict everyone on site. Let them scatter about the city. Bring them nowhere closer to having a roof over their heads.
But Gainesville had elected to take a more humane approach. Jon DeCarmine, the executive director of GRACE, saw it as the only option.
"As homeless populations grow, municipalities tend to revert to criminalizing homelessness rather than trying to deal with it as a housing issue," he said.
At a recent meeting, weeks before the coronavirus shelter-in-place orders came down, the Gainesville City Commission voted not to arrest anyone for trespassing until after Dignity Village officially closes. Even after that, the city mandated that officials make multiple attempts to work with those still living in the camp before evicting or arresting them.
The homeless, said Gainesville Mayor Lauren Poe, are not criminals. They are human beings.
"Homelessness is a problem that has a lot of causes, but none of them is criminality, and our position and our stance on that has not changed." — Gainesville Mayor Lauren Poe
"Homelessness is a problem that has a lot of causes, but none of them is criminality, and our position and our stance on that has not changed," Poe said.
DeCarmine, who has been overseeing the Dignity closure, believes Gainesville is a "bright spot" in that it has worked to find alternatives to criminalizing the homeless.
"Being homeless is not friendly or easy for anybody," he said. "It is among the most traumatic events anyone will ever experience. There's no excuse for communities that make it more difficult for it to be homeless."
It's generally accepted as fact that no one knows the breadth of homelessness in Gainesville and surrounding Alachua County better than DeCarmine. He has, after all, been thinking of ways to get people off the streets since one of his first encounters with homeless people in 1996. He was then a young volunteer for the group Food not Bombs and asked a simple question of people he met on the streets: Who is helping you find a home? The answer was shocking. No one.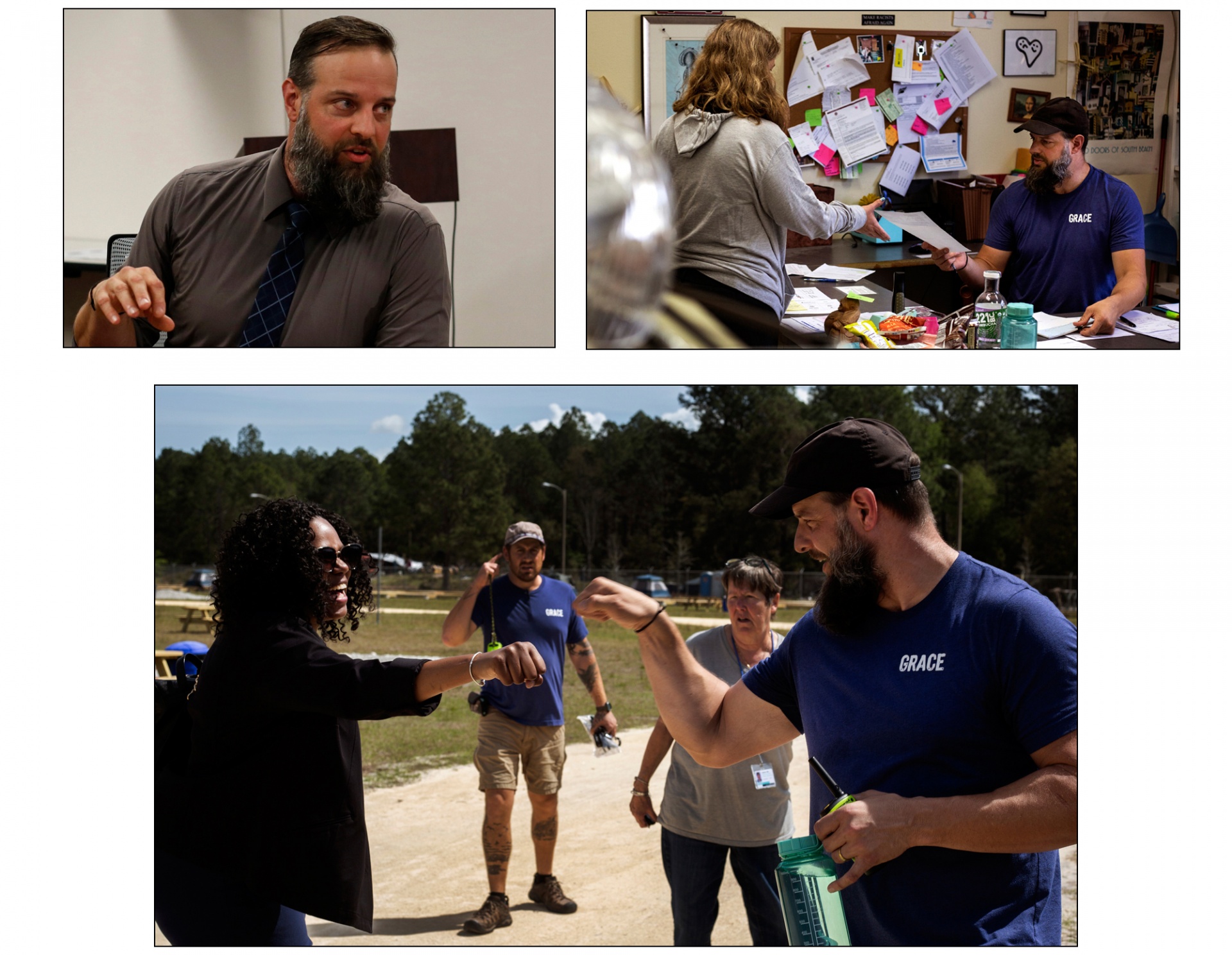 DeCarmine had moved to Florida from New York, where homelessness was so rampant that it had been accepted as a part of life. But he didn't want his two boys growing up thinking that it was normal for human beings in the 21st century to be sleeping outside, without shelter.
And how ever would he explain to them that he had decided not to do anything about it? That question set him on a path to conquer the problem. And even though the number of homeless in Alachua County has dropped from a recent high of 1,814 in 2012 to 804 last year, DeCarmine fears he may still be continuing his battle for some time to come.
When DeCarmine began his career in social work, Gainesville was not a friendly place for the homeless. In 2004, the city earned the dubious distinction of being labeled the fifth meanest city in America, in terms of its policies toward the homeless. The National Coalition for the Homeless cited Gainesville's efforts to close down tent cities, restrict access to homeless shelters and sweep parks and other public places clean of the homeless.
In 2009, the city, once again, appeared in the top five of the coalition's list. Not much had changed.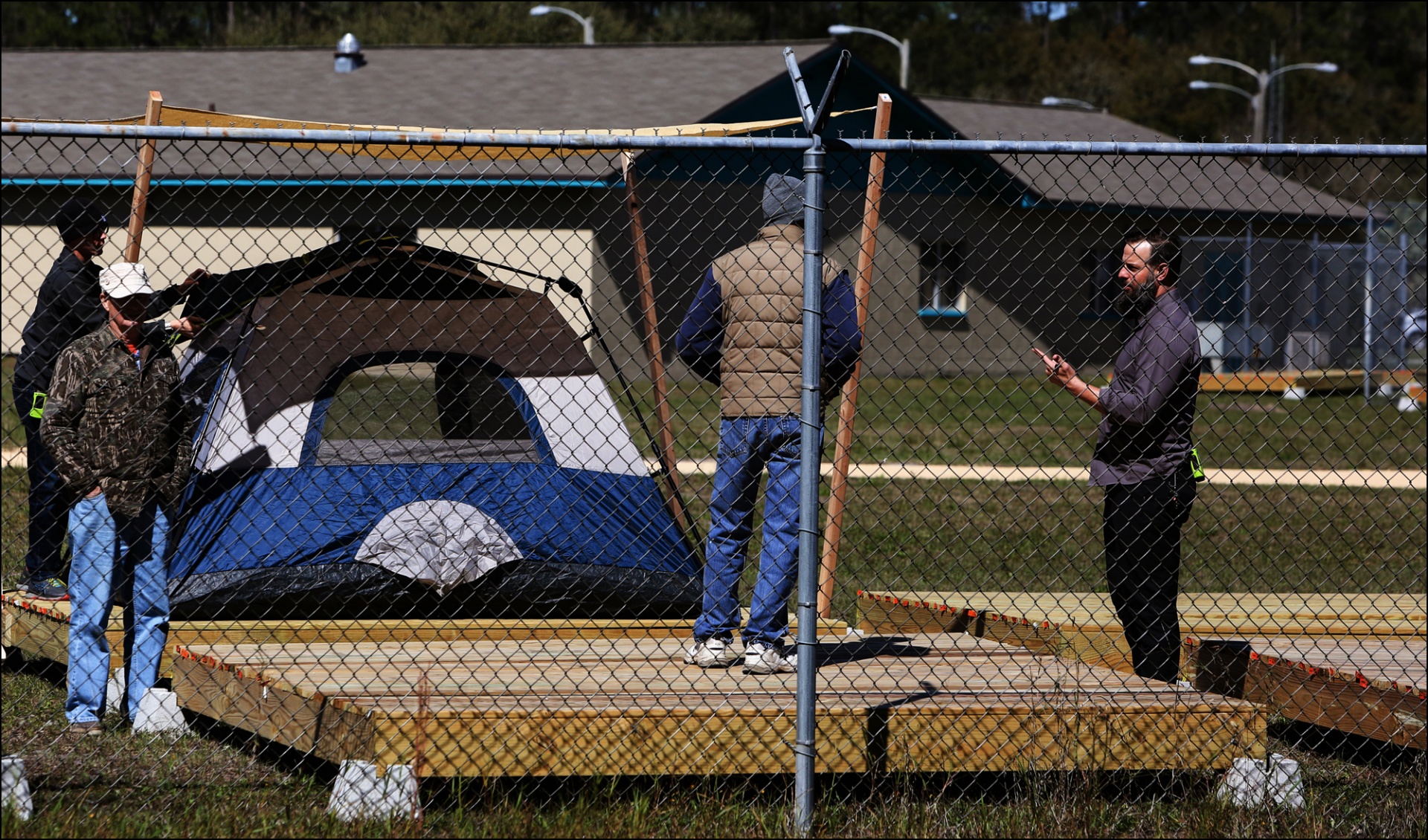 DeCarmine was determined to make things better. The people on the streets, he thought, were just one step removed from him. He, too, had once struggled to make his monthly rent. The difference was that he had been lucky enough to land on friends' couches and not on the streets.
"I had made the same mistakes they had made," he said. "I just had a softer landing pad."
Much of DeCarmine's passion was fueled by music. He's a fan of punk rock and used to play in the bands Baker Act and Today Doesn't Count.
"There's two competing ideas of punk rock," he said. "The idea that the system sucks, so let's burn it all down, and there's this idea that the world is a brutal place, let's do our very best to take care of each other."
DeCarmine chose the latter.
He became executive director of the Alachua County Coalition for Homeless and Hungry and helped author a 10-year plan that aimed, among other things, to provide more affordable housing in Alachua County, increase the number of beds available to the homeless and better access to services.
In some ways, the ambitious plan was yet another document destined to gather dust on a city hall shelf. But in DeCarmine's view, it led to one critical accomplishment: the opening in 2014 of GRACE, a one-stop center for the homeless.
It used to be that a homeless person would have to navigate complex bureaucracy at myriad agencies and offices all while trying to figure out where to sleep at night. GRACE changed all that, De Carmine said.
"People needed a place to go. They needed shelter, a shower, a place to do laundry." — Jon DeCarmine
"The central piece was that housing should be provided quickly and we should not make people jump through hoops," he said. "People needed a place to go. They needed shelter, a shower, a place to do laundry."
GRACE offers all that as well as trash pickup, computers, meals and medical services.
Since its opening in 2014, GRACE has been DeCarmine's project of love. Immediately, many folks moved from a large tent city off South Main Street in downtown Gainesville to GRACE.
These days, between 200-300 people come in daily seeking help. The shelter provides 114 shelter beds and a campground that accommodates another 85 people, including those who relocated from Dignity Village.
GRACE also provides bus tickets to those who have family and friends elsewhere who are willing to take them in. Even then, the staff at GRACE work to ensure the survival of former residents by helping with necessary items like groceries.
"If somebody moves off of a campus, that doesn't mean we stop working with them," DeCarmine said. "That means we have a relationship with them. We know where they've moved to. And we continue doing outreach engagement with them on a weekly basis."
DeCarmine credits the opening of GRACE for reducing homelessness in Alachua by 36%. He said GRACE was able to find permanent housing for 406 people in 2019.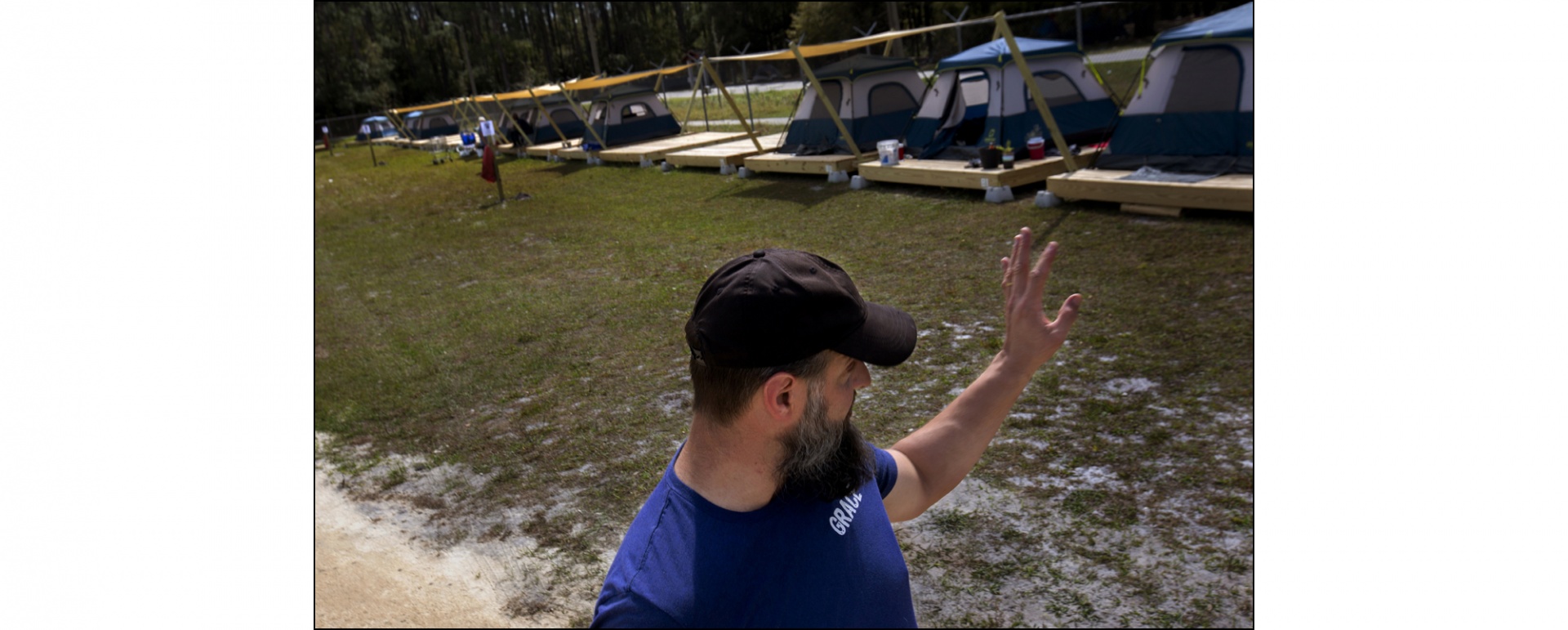 But if GRACE was a success, Dignity Village represented a black splotch. It wasn't a place that strived to get people into homes, he said. It was a stop-gap measure for those who had nowhere to turn.
"Dignity Village was the biggest broken piece in an otherwise very effective homeless services system in our community," DeCarmine said. "It functioned more as an out-of-sight, out-of-mind place not designed to improve the lives of homeless."
Ultimately, DeCarmine asked himself the question that has kept him going all these years. Do people deserve something better? The answer at Dignity Village was a resounding yes.
Explore more chapters