By Jenn Hayes
Pratibha Singh says the most beautiful time of the year is when the sandhill cranes come flying into Gainesville.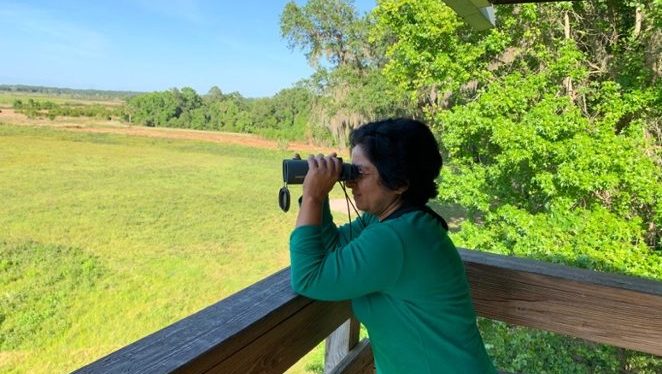 Singh now works as an administrator at the University of Florida's College of Business, but years ago she was trained as an officer in the Indian Forest Service. She completed field work in the Himalayas and eventually became director of the Kanpur Zoo in Uttar Pradesh.
While she was excited to be surrounded by animals all day, "running a zoo was more like running a business," she says. Between managing staff, facilities and a free-roaming population of monkeys, there was always an emergency.
After working with captive wildlife for so many years, Singh says that she loves seeing birds fly free. And now that wildlife is a hobby instead of a job, she's able to enjoy herself without worrying so much. Still, "it's like a full-time thing. Everyone in my office knows I'm a crazy birder."
Alachua County is a prime spot for the obsessed birder, with a new high of 362 species now recognized and ecologically diverse habitats such as Sweetwater Wetlands Park, Paynes Prairie, San Felasco and Newnans Lake. The birds change with the seasons: some are year-round residents, some part-timers and some just passing through.
The Gainesville birding community is difficult to measure, but it's big. The popular site eBird lists over 4,000 users in Alachua County and dozens who have all logged over 200 species. Many of the uninitiated can only identify a handful of those.
Harrison Jones, a field ecologist and birder, said identifying birds becomes a sense over time. "It's like when you know a friend so well that you know their mannerisms, you know, the way they move. You don't have to see their face to know that that's your friend."
LOVE TO SEE IT
We polled the 1.3k-member Alachua County Birding group on Facebook to find out their favorite birds to see around Gainesville. Here are a few of the most beloved, from left to right: 1. Swallow-Tailed Kite (more) Photo courtesy of Duncan Kabinu, @wildlifeventures; This bird of prey was an overwhelming favorite. Watch for swallow-tailed kites around March and throughout the summer. 2. Sandhill Cranes (more) Photo courtesy of Justin Bright, @justindoeslife; Second place among those surveyed, sandhill cranes have been welcomed back to Alachua County with delight over the past few weeks.  3. Roseate Spoonbills (more) Photo courtesy of Justin Bright, @justindoeslife; Roseate spoonbills are another favorite, and another bird that may be nudging northward as temperatures warm. Bonus backyard bird: Carolina Wren (more) Photo courtesy of Justin Bright, @justindoeslife; Carolina wrens did not make the top five, or even 30. But these little birds hop across the backyard fence all day, and you may find them out your window, too.
Getting hooked
Tim Hardin has not been in Gainesville long, but he's attempting to log what is known in birding as a "Big Year," –logging a record-breaking number of bird species for a particular area in the course of a year. He's not too far off, with 247 local species logged. Mike Manetz set the current record, 259 species, in 2016.
Hardin is a combat veteran and Santa Fe College student who was instantly taken with Alachua County birding after a day at Sweetwater Wetlands Preserve. He got his start just before last year's spring migration, and he describes his sense of wonder at the migrating birds passing through Gainesville.
"All these birds came through, and I had no idea what they were – never seen them. A lot of them were singing, and they're colorful. I remember sitting in my yard, and this American redstart just came down, flittering around eating bugs and caterpillars, and I was like what in the world is this. Yeah, that hooked me hard."
Gainesville birders get to know the migrations over time and learn when to expect certain birds, though they also delight in surprises. Bird migrations are a symbol of nature's regularity. As temperatures continue to rise, that may change.
Out of place
Rare bird sightings cause a stir, even over Zoom. Scott Robinson, a professor of ecosystem conservation at the Florida Museum of Natural History, sighted an unusually late-season Swainson's thrush during a video call he happened to take outside. It was late November, so the Swainson's thrush should have been long gone to its winter retreat in the Andes.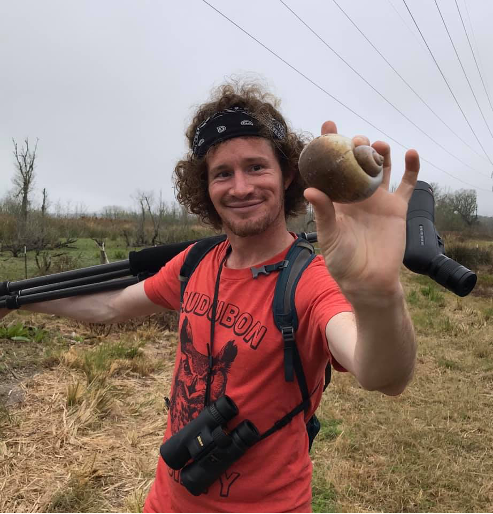 It's not usually 80 degrees outside in late November, either. So, while it was the usual time to migrate, Robinson asks, "Why would you go south when there's plenty of food and it's warm?"
Climate change impacts can also push birds physically out of their usual range. As severe weather events increase, species displacement may become more frequent and dramatic. Hardin recalled sightings of magnificent frigatebirds, usually found closer to the coast, at Newnans Lake when Tropical Storm Eta made its late pass through Gainesville. When a hurricane comes through, birders often gather at Newnans Lake to see what may have been swept inland.
Indeed, birders seem to find an opportunity, or an interesting bird, rather, to counter every menace. Beginning in 2018, birders noted a number of snail kites at Paynes Prairie, which was practically unheard of. IFAS researchers say a booming population of invasive apple snails, spurred on by extreme weather-induced flooding, have drawn the snail kites north from their native South Florida.
Meanwhile, Alachua County birders continue to log species diversity records and delight in unseasonal hummingbird sightings. However, the boon of a lingering rare bird for the birder is closely tied with the complex impacts of climate change: "It's very exciting as a birdwatcher," Robinson said. "But it's also very disturbing."
Big bird data
Gainesville's birdwatchers combine their powers each year at the Christmas Bird Count. The Audubon Society bird census is a long-standing and successful example of citizen science dating back to 1900. The 2019 Christmas Bird Count had almost 80,000 participants in 2,615 regions of North America. Hardin, Singh, Jones and Robinson have all participated in Alachua County's count, in Robinson's case, for decades.
"We plot the data in real time so we see the numbers build up, and which numbers are high, which are low," Robinson said. "People groan and miss birds, and we cheer when we see a bird."
For bird enthusiasts, it's a day to look forward to all year. Some healthy competition is involved. Last year, Gainesville reported more species than any other area in Florida and had the highest inland count in the United States.
Gainesville's count and national statistics are compiled and used for research purposes, in some cases informing large-scale studies of bird populations.
Muddling through
The Audubon Society uses Christmas Bird Count data, among other sources, to report on how climate change is impacting birds. Its 2019 Climate Report finds that 64% of bird species are "moderately or highly vulnerable to climate change." Recent research also indicates that bird migration is shifting in response to warming temperatures, with potentially disastrous impacts.
For Jones, the birds themselves inspire confidence. "They're incredibly adaptable, they're just very flexible," he explained. Some shorebirds "breed in the largest tracts of wilderness left in North America and then, in the winter, they might be on a really crowded beach in South Florida, surrounded by thousands of people." If a species can survive that kind of "double life," perhaps it can also adapt to the changing climate.
"We can't even drive without our GPS and these birds fly everywhere and know exactly where to stop," Singh said. "I think they're far superior beings."
Gainesville's Christmas Bird Count is scheduled for this Sunday, Dec. 20. Social distancing and masks are required for groups, and individuals may also choose to participate on their own. Contact Andy Kratter at kratter@flmnh.ufl.edu for more information.