By Alexandra Sabo | April 22, 2020
On the fiftieth anniversary of Earth Day, is it time to consider rights for nature?
___________________________________________________________
Storymap by Joshua Baker, photos by John Moran.
Most of the time, the Floridan Aquifer feeds the nearly 200 springs in the Suwanee River Basin, pushing water up through ancient porous limestone to the surface.
During times of flood, pressure from the rising waters can cause the springs to reverse flow. The springs recharge the aquifer instead of the other way around. This reversal historically kept the region's iconic freshwaters healthy and thriving.
The relationship between the waters underground and those at the surface is not one-way. It's give-and-take.
That natural reciprocity helped Florida's rivers and world-class springs run clear, tinted with undulating shades of aquamarine. Some were more tannic with transparent golden tones, and others jeweled blues. Verdant eelgrass rose from sandy white riverbeds and swayed with the current. Moss-hung oaks and cypress reflected back the canopy overhead.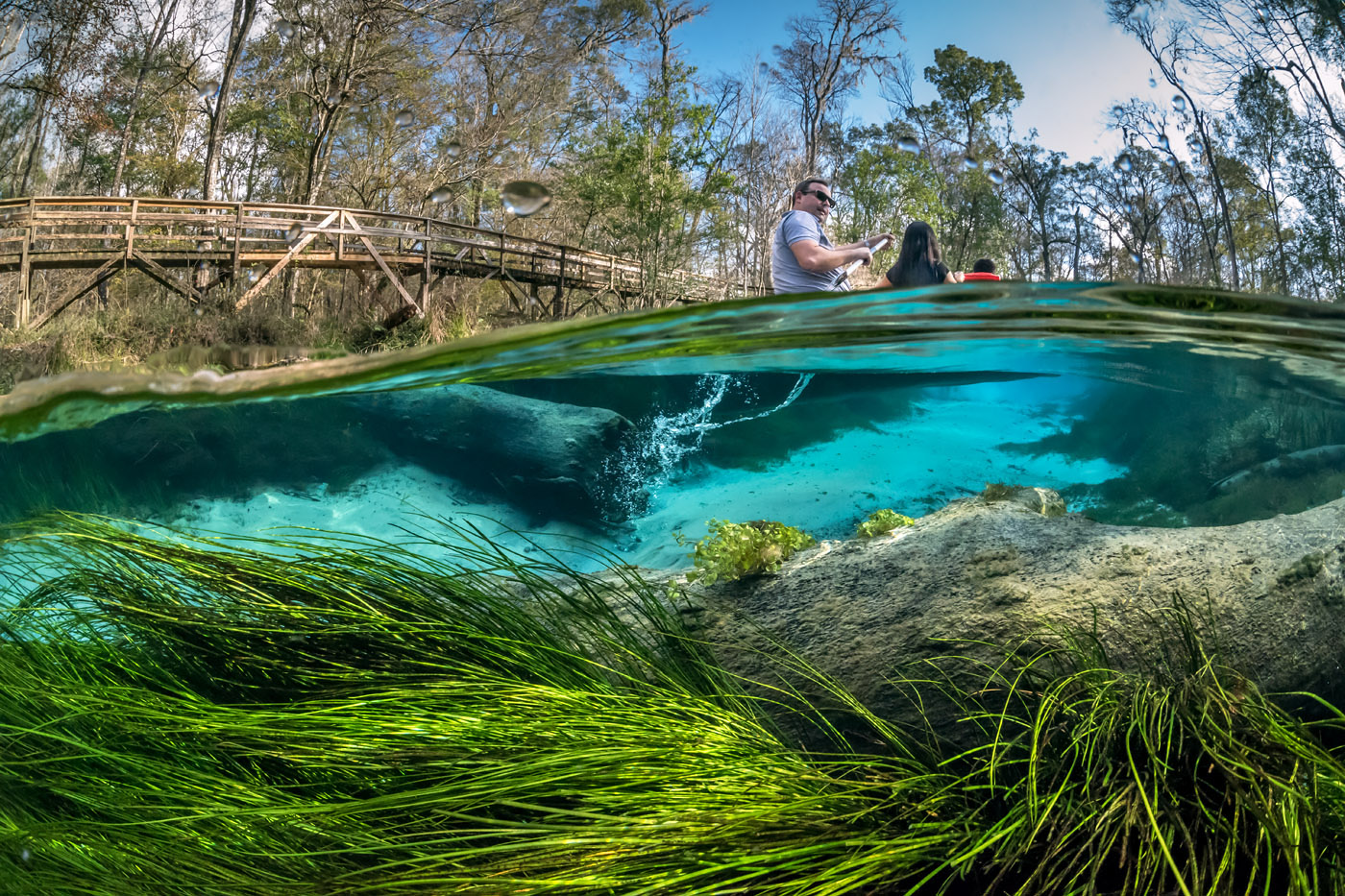 But today, rather than kaleidoscopic greens and blues, many rivers and springs in the Suwannee Basin, like others around the state, flow with inky green slime, pallid eel grass and murky waters that conceal many of the springs' white sand bottoms. The change comes down to people, essentially, too much polluting and too much groundwater pumping.
The human relationship with the river is not give-and-take. It's been mostly one-way.
Along the Santa Fe River, part of the Suwannee Basin, permitted activities from water-bottling plants to the nitrate pollution that flows from development and agriculture underscore the concept, fundamental to Florida water law, that water resources are valued for their highest and best use by humans.
But here and around the world, a growing legal movement is challenging that framework. The so-called Rights of Nature movement asks: Should we view ecosystems not as property but as entities with the legal right to exist and flourish? Should rivers, mountains, forests and glaciers be considered legal persons, in the same way that corporations have won many of the rights assigned to people? Governments from Toledo, Ohio, to South America and beyond have said yes, granting such rights to rivers, lakes, animals and even a wild rice sacred to America'sOjibwe people.
"It's time for deep, systematic change," says John Moran, a Gainesville-based nature photographer whose camera has captured the profound changes underway in the Suwannee Basin between the 1970s and now. The pollution befouling Florida's waters, Moran says, "by and large, is not illegal."
Moran is part of a group proposing that Alachua County's Board of County Commissioners grant the Santa Fe River "rights" under the County Charter, "including, but not limited to, the right to naturally exist, flourish, regenerate, and evolve."
Over the past year, similar efforts have emerged throughout Florida, a striking new way of confronting the state's water challenges. "Florida has become the epicenter of rights of nature lawmaking," says Thomas Linzey, Senior Counsel at the Spokane-based Center for Democratic and Environmental Rights and co-founder of the Community Environmental Legal Defense Fund.
The idea seems unthinkable in Tallahassee, where lawmakers this year passed a bill blocking local governments from granting nature rights. A Florida Farm Bureau analysis stressed that rights of nature proposals would broaden standing, invite litigation and make permits harder to uphold. "It is completely unnecessary," the Farm Bureau argued, "Floridians already have ample opportunity under existing law to challenge activities or government actions they feel result in harm to the environment."
The Farm Bureau and other groups helped develop language that became part of this year's 111-page water bill, known as the Clean Waterways Act. The Act would preempt local governments' ability to grant such rights: "A local government regulation, ordinance, code, rule, comprehensive plan, charter, or any other provision of law may not recognize or grant any legal rights to a plant, an animal, a body of water, or any other part of the natural environment …."
Merrillee Malwitz-Jipson, co-owner at Rum 138, a canoe and kayaking outfitter on the lower Santa Fe, said lawmakers ask her: "Why would you give nature rights?" She wants them to consider a different question: "Why would our laws allow for harm?"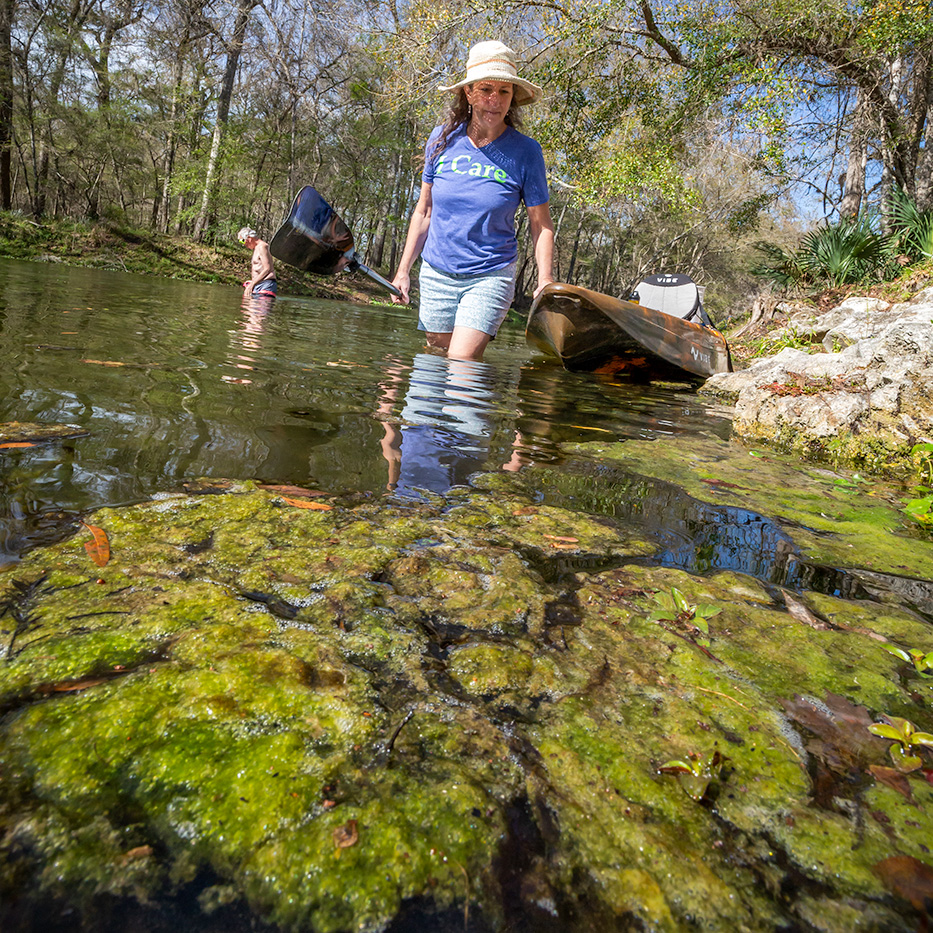 Malwitz-Jipson is part of the local group—known as SAFEBOR—pushing for rights for the Santa Fe. The organization is one of dozens that have asked Governor Ron DeSantis to veto the Clean Waterways Act based on a broad critique. He had been expected to sign it, though the coronavirus emergency has delayed much state business.
Thinking the unthinkable
While it's new to see these ideas debated in local-government chambers and at the state capitol, concepts of rights or personhood for nature are not new. Rights of Nature have been adopted into Native American tribal treaties since at least the mid-19th century. The philosophical foundations stretch much farther back to native traditions that understand nature not as property or a resource but as an entity imbued with an innate right to exist and flourish.
This ancient understanding has taken on a new urgency in recent decades amid the ruin of major rivers and unprecedented rates of deforestation, glacial melt and species extinctions.Ecuador has written the rights of nature into its national constitution.Australia, India, Nepal and New Zealand have granted rights to eminent waters, mountains and glaciers. Colombia has recognized the Amazon rainforest as a subject of rights.
Malwitz-Jipson, Moran and other citizens pushing the Florida movement as an alternative to the shortcomings of the status quo say every granting of rights has seemed radical in its early days. Once established, it's hard to fathom how we lived without those rights. "Throughout legal history, each successive extension of rights to some new entity has been … a bit unthinkable," wrote University of Southern California law professor Christopher Stone in 1972 on the movement that was just being conceived. Half a century later, more than 100 governments around the world have granted such rights.
Last fall, the Florida Democratic Party wove the notion of nature rights into its platform. In February, activists formalized the Florida Rights of Nature Network to coordinate and expand their efforts across the state. Also that month, the University of Florida's Levin College of Law devoted its 26th annual Public Interest Environmental Conference to the movement. Speakers made clear just how unpreceden
ted—and still uncertain—the legal framework. "In the U.S. it's important to recognize that there hasn't even been one real enforcement case brought on the rights of nature yet," says Linzey, "and so it's at the very preliminary stage."
The dozen proposals in Florida, all river-focused,aim to give rivers in Alachua, Orange and other counties rights in courts of law. In legalese, they would win personhood. And though they wouldn't gain rights in the same way corporations have rights, advocates say it could begin to set precedent.
In theory, Florida is a friendly place for such local-rule maneuvers, says Linzey. That's because they fare well in states where citizens have more direct access to law-making—such as tribal governments and in charter counties. Alachua is among 20 charter counties in Florida.
Many of the rights of nature activists pointed out that like the initiatives they are putting forth, the handling of coronavirus has also highlighted tensions between state and local governments. In Florida and around the nation, local officials have clashed with governors over who has the authority to issue stay-at-home orders, to define what counts as an "essential business" and to open and close public spaces such as beaches and parks.
U.S. rights-of-nature proposals, so far all local, make the case that communities should be able to make decisions about projects and actions that will cause harm to the natural systems their citizens depend on. To do that, natural entities need rights and legal standing in court.
SAFEBOR members say essentially, nature rights make the relationship between people and the water they rely on more reciprocal. The Floridan Aquifer, Santa Fe River and each spring in the Suwannee Basin and across Florida play multiple roles for multiple lives. They nourish crops and send water to our faucets. They buoy the manatees that bob beneath kayaks. They provide cool respite on humid summer days.
Should they have the right to exist, flourish, regenerate and evolve? Fifty years after the first Earth Day, is it time to think the unthinkable?