By Grace King, Meredith Sheldon and Dolores Hinckley | November 2, 2018
1.5 Million Florida Felons Without A Vote
In this WUFT News Special Report, we explore the fight Florida felons are facing to get their right to vote back after prison.
Joey Galasso has a family, his own business and a home. But, there is one thing he says he does not have: a voice.
Galasso was convicted of robbery in 1999 and spent two years behind bars. Now, 18 years later, he wants to walk into a voting booth and feel like a member of society again.
But he can't— and he's not alone.
Galasso is one of nearly 1.5 million felons in the Sunshine State who have lost their right to vote.
More than six million felons in the nation are unable to cast a ballot. A quarter of those felons live right here in Florida. This state is one of only four others in the U.S. that permanently strips felons of their voting rights after they have served their time, according to the Brennan Center for Justice.
Our Investigation
For the last 10 months, a team at WUFT News has looked into the struggles Florida felons face after they leave the prison gates with housing, employment and voting.
With the November election in sight, we spent the last three months focusing on the third issue, which could soon change with Amendment 4.
From Florida to New York, we tracked down experts and political scientists who provided insight and analysis on the history of Florida's civil rights restoration process and the proposed amendment. We sat down with a handful of current, former and prospective Florida governors to gauge their understanding of the issue, as well as the people directly affected by this issue: Florida felons.
In addition to our conversations with experts, politicians, community members and felons, we dug through decades of data and watched more than 100 hours of clemency hearings to uncover the consequences of Florida's voting rights policy over the years.
What We Found
Policies dating back to the Jim Crow era are still silencing Floridians today.
A WUFT review of data from The Sentencing Project and the U.S. Census Bureau found about 8.5-percent of Florida adults who aren't African-American can't cast a ballot.
But 17.6-percent of the Sunshine State's African-American adults, more than double the percentage of others, don't have the right to vote.
"A very big segment of Florida's population doesn't have the sort of history of participating politically because they were prohibited from doing so by law," said Myrna Perez, deputy director of the Brennan Center for Justice. "The legislature of that time redefined a number of crimes in terms of their severity and what sorts of punishments were attached to them."
The new policies mainly affected slaves who were recently freed, Perez says, effectively "disenfranchising everybody that the 15th amendment of the Constitution had re-enfranchised."
In the last two decades, each governor has put his own rules in place to determine who gets their right to vote back, when and how.
During Gov. Lawton Chiles' term from 1991 to 1998, he restored rights to about 1,270 felons each year. When Gov. Jeb Bush took office, that number rose to about 9,258 felons per year from 1999 to 2007.
The biggest change in recent history — and the one most similar to what Amendment Four is proposing — was when Gov. Charlie Crist took office in 2007. He restored voting rights to 39,558 felons on average each year of his governorship.
"It was a great thing, because I believe in forgiveness," Gov. Crist said. He restored voting rights to more than 155,00 Floridians during his four-year-term.
But when Gov. Rick Scott took office, he amended the clemency rules and implemented a waiting period, as well as a more complicated path, to restoration. As a result, we calculated that on average, Scott restores voting rights to about 384 felons a year – a dramatic difference from his predecessors.
The Current Clemency Process
There is only one way Florida felons can regain their right to vote: they have to apply.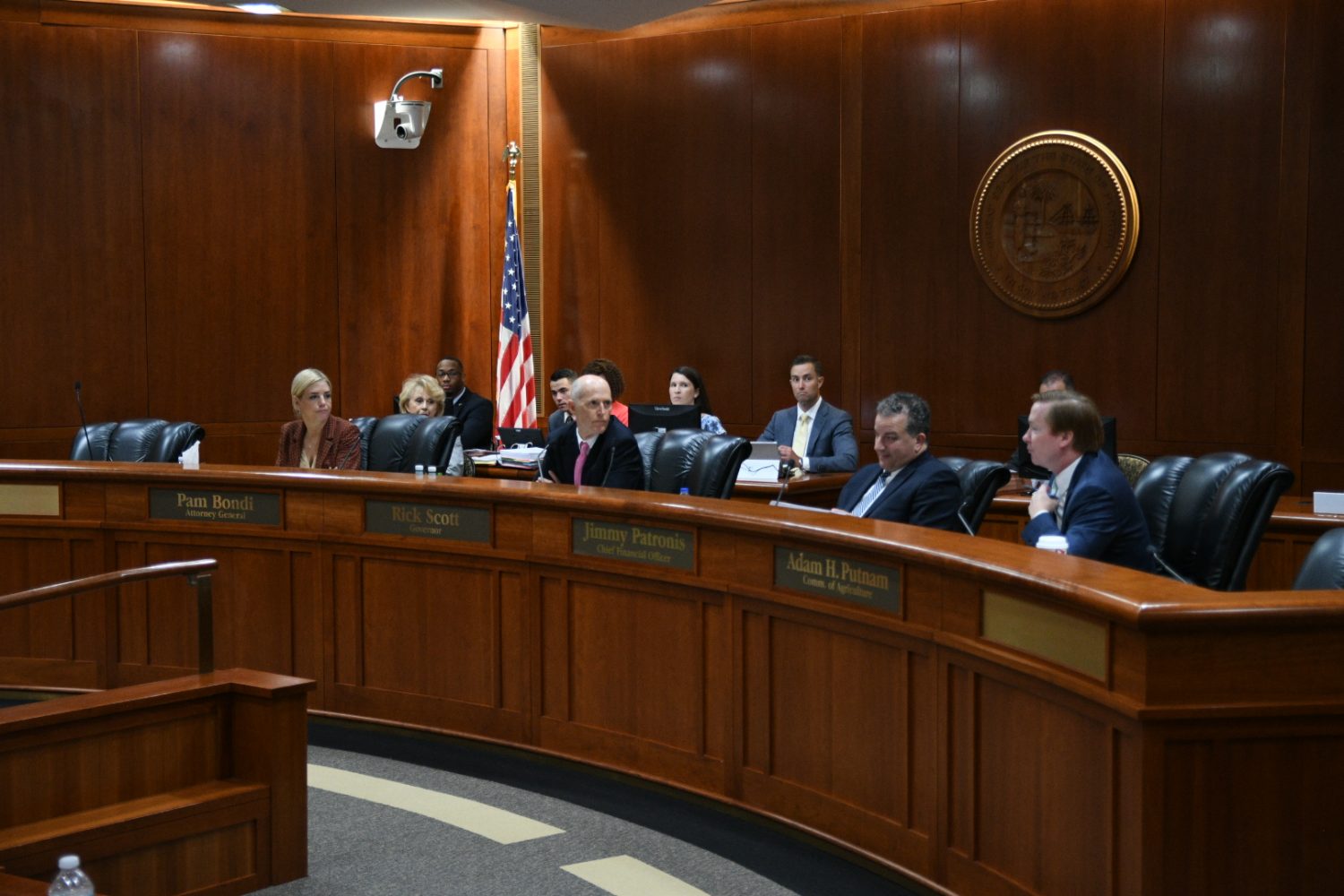 But before a felon can even begin the process, he or she must wait five to seven years, depending on their conviction. Then, they can fill out an application, where it joins thousands of others waiting to be reviewed by investigators from the Florida Commission on Offender Review (FCOR).
According to data from the Florida Commission on Offender Review, it receives thousands of applications each year from felons wishing to be granted six types of clemency relief: pardons, commutations of sentence, restoration of firearm authority, restoration of civil rights, remission of fines and forfeitures, and/or restoration of alien status.
With just 81 employees working to review thousands of cases, it can be years before some applicants receive a letter telling them if they've been granted their rights back, denied or selected to make their case in front of the clemency board in Tallahassee.
There, Scott and his cabinet –Attorney General Pam Bondi, Commissioner of Agriculture Adam Putnam, and Chief Financial Officer Jimmy Patronis — decide each felon's fate individually, questioning them on a variety of factors, sometimes including whether they express remorse, use drugs, drink alcohol, go to church, or volunteer in the community.
"I think it's important that we figure out if you're going to become a productive member of society again," Scott told WUFT News. Our investigation revealed his administration decided only 39 percent met that criteria and denied the other 61 percent on the spot.
With the changing nature and complexity of Florida's voting rights policy, many decided it was time for a change.
A Fight for the Right
Desmond Meade struggled to re-enter society after he was released from prison in 2004. He understands firsthand the challenges that almost 1.7 million Florida felons face without a voice.
"I knew that a change needed to happen," Meade said. "When a debt is paid, it's paid."
He was among the first advocates for what is now Amendment 4, a ballot initiative that would restore "the voting rights of Floridians with felony convictions after they complete all terms of their sentence including parole or probation," excluding "those convicted of murder or sexual offenses, who would continue to be permanently barred from voting unless the Governor and Cabinet vote to restore their voting rights on a case by case basis."
The advocates, mainly working for the Florida Restoration of Rights Coalition with the "Say Yes for Second Chances" and "Let My People Vote Campaigns," got 842,796 eligible voters to sign a petition to get the amendment on the ballot.
"That's people across all political lines, people across all racial lines that came together from Pensacola to Key West," said Meade. "That was a tremendous display of democracy at work."
If passed, Amendment 4 would single handedly extend voting rights to more people simultaneously than at any other point in America since 1971, when President Richard Nixon ratified the 26th Amendment to the United States Constitution and thus allowed 18-year-olds to register to vote for the first time.
This time, it's up to Florida voters to make history.
"We're talking roughly ten percent of citizens in Florida who would be eligible to vote who currently are not on the rolls," said Dan Smith, chair of the political science department at the University of Florida. "So that's pretty dramatic."
"Amendment 4 is about redemption and forgiveness," Perez said. "It's about telling members of our community that we are willing to give you a second chance."
Besides making history, Amendment Four also has the power to change the electorate. If it passes, more people will be casting votes than the number of ballots that decided the last seven presidential elections in the state combined, Smith said.
"Florida is always important," Smith said. "We've known that since the 2000 Presidential Election. It has a great effect potentially in 2020 if those individuals who have their rights restored, if Amendment 4 passes, actually register to vote and mobilize to turn out."
The amendment needs 60 percent of Florida voters to say yes in order to pass. If it does meet that threshold, thousands of Floridians will be able to regain their voting rights.
"We're talking roughly ten percent of citizens in Florida who would be eligible to vote who currently are not on the rolls," said Smith. "So that's pretty dramatic."
Of the nearly 1.7 million Floridians who can't vote, about 1.5 million would be eligible to cast a ballot in the 2020 Presidential Election under this proposed amendment.
That's also about 2,800 times the number of ballots that decided who Florida's electoral votes would go to in the 2000 election.
In the last two decades, the winning margins have been slim.
"That's why this is a political issue," said Richard Harrison, executive director of Floridians for a Sensible Voting Rights Policy. "It's enough new votes to change the outcome statewide."
Research published by the American Sociological Association suggests that's true. Christopher Uggen and Jeff Manza, two political scientists from the University of Minnesota and Northwestern University, respectively, looked at eight presidential elections and determined that 73 percent of all incarcerated felons in the United States would have voted for the Democratic candidate.
There's still a lot of uncertainties, like the passage of it, felons registering to vote, and then showing up at the polls, cautioned Smith.
"[They] are all not just natural occurrences," he said. He's right: the Uggen and Manza study estimated only one of every three felons would show up to the polls.
Still, a third of Florida's potential new voters would have been enough to have potentially changed the outcome of two of the last five presidential elections.
The Conversation
The most recent data from the University of North Florida Public Opinion Research Lab shows 71 percent of likely voters support the amendment with only 21 percent opposed, and another 8 percent undecided.
Meade is already thinking about what the future will bring if those numbers are right.
"Thinking about what that day looks like actually can get me a little teary eyed," Meade said. "Nothing speaks more to American citizenship than being able to vote."
Yet, some are doubtful it will meet this threshold.
"That is a very high bar," said Harrison. "Especially in a state like Florida which is politically divided and divided in a lot of other ways."
Harrison added that he thinks this amendment goes too far.
"The only thing that makes sense is to do voting rights restoration on a case by case basis," he said. State Senator Dennis Baxley agrees.
"I think the amendment goes a little farther than I would," he said. "I don't think it should be automatic."
Even if Amendment 4 fails, the process could still change in 2019. Florida's governorship, and by extension, control of the clemency process, is on the ballot as well.
WUFT News spoke with Democratic gubernatorial candidate Tallahassee Mayor Andrew Gillum at an event in Palatka, where he and his supporters told us they hope Amendment 4 passes.
"I hope it passes overwhelmingly to bring Florida into the 21st Century,"  Gillum said. "[The current policy] is extremely harmful, not only to the state of Florida, but to the individuals who are having to live through those felony convictions."
We also tried to talk to the Republican nominee, Congressman Ron DeSantis, at multiple events, but he would not talk to our reporters.
In an email, his campaign told us "Ron believes in second chances… however, he believes that automatic restoration is inappropriate as recidivism is still very high."
Now, it's up to the millions of Floridians who can vote to decide if Florida's felons deserve an easier path to regaining their ability to cast a ballot.
To find your voting location and hours, please visit your county Supervisor of Elections website.
---
Additional reporting, editing and producing by Sofia Millar, Veronica Lam, Kyle Wood, Veronika Vernachio, Brooke Azzaro, Jonathan Santos, Henry Coburn, Zach Oliveri, Quan McWill, Daphna Krause, Violet Comber-Wilden, Landon McPhee, Audrey Mostek, Carla Kakouris, and Justine McClimont.
A special thank you to faculty advisor Harrison Hove as well as Ryan Vasquez, Ethan Magoc, Ted Bridis, Frank LoMonte and Andrew Briz.