Can technology help find a better fertilizer?
Billions of dollars' worth of investment is pouring into microbes, cover crops, and other alternatives
By Mavis Chan
The golden elixir of modern agriculture began with a wizened alchemist, alone in a room boiling his own urine, in search of a substance that would turn base metals into gold. One day, he found phosphorus, glowing pale green.
Around two centuries later, industrial chemists figured out how to "turn air into bread," as the saying went at the time, with the development of the Haber-Bosch process for manufacturing ammonia, a form of nitrogen that can be used by plants.
Phosphorus and nitrogen are key building blocks of the synthetic fertilizer that feeds half the world. However, the environmental cost is heavy: The process of making nitrogen fertilizers emits around 2% of the world's total carbon dioxide. Easily soluble synthetic fertilizers dissolve in groundwater or surface water and move away from farm fields, leading to contaminated water wells, algae blooms that poison water supplies, and an uninhabitable "dead zone" in the Gulf of Mexico.
Now, a new generation of inventors and investors is looking for another breakthrough. Big-name investors like Bill Gates, Jeff Bezos and Michael Bloomberg have invested millions of dollars into companies researching agricultural technologies that could replace or lessen the need for chemical fertilizers. The agricultural biotech sector, which focuses on plant yield and resiliency, received $6.6 billion in investments in 2021 and 2022, according to startup tracker PitchBook.
A technology gaining a lot of attention involves tiny microbes that could serve as a new green fertilizer. Researchers are also looking at other ways to decrease reliance on synthetic fertilizers, such as slow-releasing fertilizers like struvite and more traditional methods like cover crops.
While the agriculture biotech sector and its investors are bullish on high-tech solutions, the researchers who study them aren't as confident. The question remains: Can the answer to our fertilizer problems be found in a lab?
Scientists look for fertilizer 'fix'
Just as humans need carbohydrates and protein to live, crops like wheat and corn need nitrogen, phosphorus and potassium to survive.
Most crops are picky eaters; they can digest only certain forms of nitrogen. They cannot absorb nitrogen from the air, despite it being primarily made up of nitrogen gas. Instead, bacteria in the soil convert nitrogen from the air into a usable form for plants.
Microbial fertilizers are nitrogen-fixing bacteria developed by biotech companies. Farmers can apply these fertilizers along with chemical fertilizers.
Founded in 2010, California-based Pivot Bio brought to market the first nitrogen microbes for corn. It is valued at $1.7 billion, according to PitchBook.
Pivot Bio has genetically programmed microbes to produce ammonia regardless of the existing amount of nitrogen compounds in the soil, said Ernie Sanders, Pivot's senior vice president of product innovation.
"Our bacteria create a small amount of nitrogen every single day and are growing right there on the roots of the plant, so it's taken up immediately," he said.
Selling at between $20 and $24 an acre, the company's products were used on 3 million acres in the U.S. in 2022. That's less than half of one percent of the 657 million acres farmers planted, according to USDA data.
Another company making a similar product is Kula Bio, which was founded by two Harvard professors in 2018. The company has raised around $60 million in venture capital funding, according to PitchBook.
Kula's microbes come with energy stored within them. Once they are in the soil, they begin converting nitrogen in the air into ammonia for the plants, co-founder Daniel Nocera explained.
Although the startup has not sold any products yet, Nocera said the firm is conducting field trials focusing mainly on farming lettuce, tomatoes and berries.
Some farmers have used the microbes as a replacement for some amount of chemical fertilizers while others have used it as an additive. In the former case, farmers maintained their yield; in the latter case, farmers saw an increase in yield, Nocera said.
"We've had amazing successes with our farm trials where we never see a decrease in yield," he added.
Field tests show mixed results
Pivot Bio officials pointed to several third-party studies of its "PROVEN40" product suggesting its effectiveness. The company didn't pay for the test but provided the microbes. The field test found that even with 25% less nitrogen applied, plots treated with the microbes did not lose yield.
However, academic researchers aren't certain about the effectiveness of biofertilizers. Daniel Kaiser, a nutrient management professor at the University of Minnesota, believes microbes are not reliable at this point.
"The big issue is just unpredictability," Kaiser said. "You need to demonstrate clearly that a certain percentage of the time that (the biofertilizer) is effective and doing what it says it can be doing, but the data I've seen doesn't prove it."
Kaiser led a trial funded by Pivot Bio from 2019 to 2021 to study the company's microbes. He ran trials in multiple locations, comparing corn yield from soil with and without Pivot's microbes at different rates of synthetic fertilizer application.
Only one sample plot with microbes saw more yield with less synthetic fertilizer added, according to Kaiser's results.
Kaiser said it's hard to know whether microbial fertilizers can survive in already biologically active soils, or whether they can sufficiently grow in number. He also said that farmers may be able to get the same yield using less fertilizer because they were over-applying fertilizer already.
"I mean, growers could reduce [fertilizer] and put this product down and get the same yield," he said, "but it doesn't necessarily prove the product works."
Kevin and Korbin Kudera, father-and-son farmers from the Nebraska On-Farm Research Network, also tested Pivot's microbes on plots with reduced fertilizer application and compared their corn yield with plots containing normal fertilizer amounts. They found the plots with microbes gave the same yield as plots without the biofertilizers.
Prasanna Kankanala, director of research and development at Trace Genomics, an Iowa-based soil analysis company, doubts microbial fertilizers can completely replace synthetic fertilizers.
Since different microbes are adapted to different types of soil and climate, it's challenging to "create a microbial product that is going to work everywhere," she said.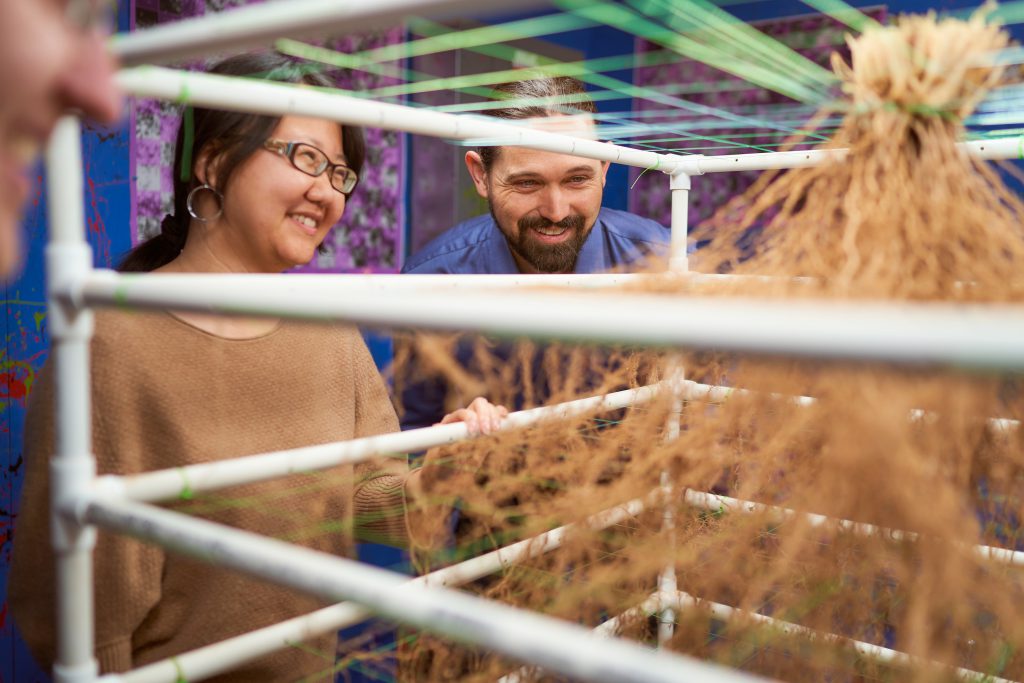 An old approach gets a new look
In addition to microbes, researchers and funders are working on developing other alternatives to synthetic fertilizers.
One old-fashioned approach getting new attention is cover crops: planting crops to add nutrients and protect bare soil. Chris Topp, a researcher at the St. Louis-based Donald Danforth Plant Science Center, is interested in breeding crops to capture more of the nitrogen already in the soil.
Among other things, his lab is focused on finding cover crops that compete less with corn seedlings.
"Better cover crops will lead to potentially higher-yielding corn that needs less nitrogen, while also adding to soil structure and soil organic carbon," Topp said.
The USDA's Agricultural Research Service is also researching cover crops. Research ecologist Steven Mirsky maps the performance of cover crops on farms across the country, using those data to generate computer models that can help farmers make site-specific decisions about how much to fertilize.
"That helps with both precision nitrogen management and with conservation," Mirsky said.
Despite the uptick in research interest and adoption in recent years, cover crops were planted on only around 5% of harvested cropland in 2017, according to the USDA.
The cost of buying and planting cover crops can be up to $30 an acre, said Rob Myers, head of University of Missouri's Center for Regenerative Agriculture. For comparison, fertilizer for an acre of corn this year is expected to cost about $244, according to MU. The center received a $10 million grant from the USDA in March with the aim of doubling cover crop acreage nationwide by 2030.
"Farmers have to get familiar with what's going to work with the cover crops for them," he said.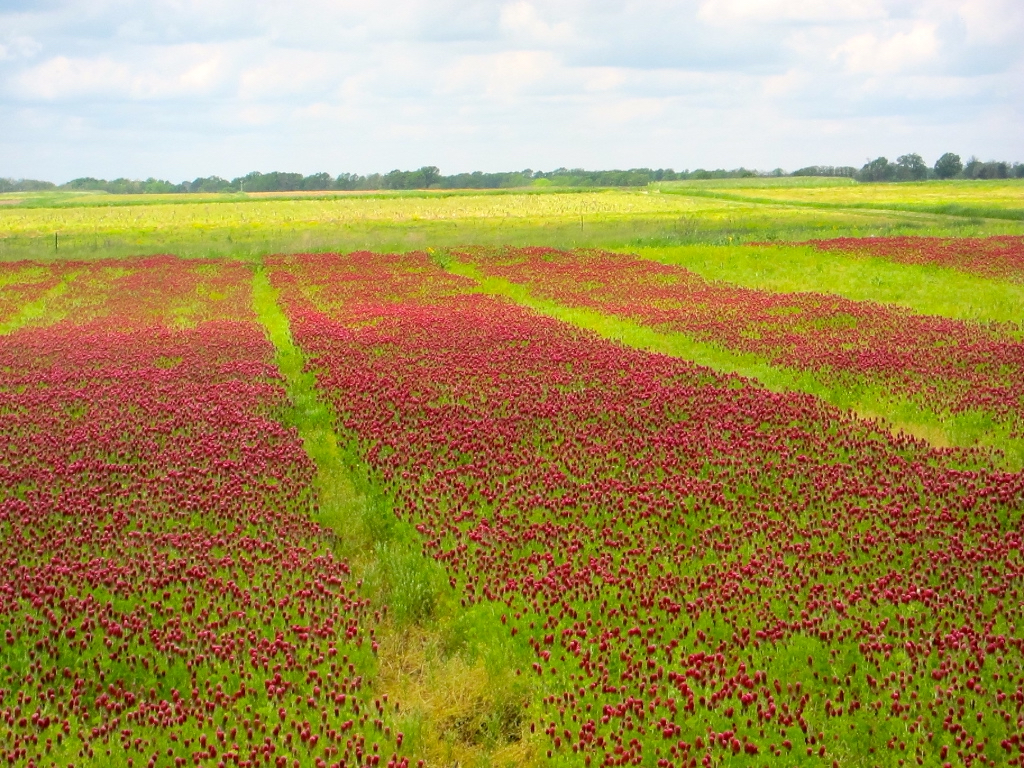 Using cover crops may have some unintended consequences. University of Illinois researcher Nakian Kim found that cover crops could have both positive and negative effects on land that had been heavily fertilized for decades. Although cover crops may reduce the risk of fertilizer leaching, they may also leave the soil more primed for production of nitrous oxide, the study found.
Researchers are also looking at slow-releasing fertilizers, which release nutrients gradually and are less likely to wash away. These include manure and a phosphorus fertilizer called struvite, a mineral crystal-like compound made from wastewater.
Struvite is drawing commercial interest. Canadian company Ostara announced in 2021 that it would build a $25 million plant in St. Louis to manufacture a struvite-based fertilizer.
Sourcing struvite from wastewater would lessen the amount of phosphorus compounds already in the environment from reaching waterways and reduce reliance on mined rock phosphorus, said Joanne Thiessen Martens, a soil science professor at the University of Manitoba. However, she said more research is needed to test its effectiveness in different environments.
"Removing that phosphorus from the wastewater as struvite is definitely a big environmental benefit," she said.
No "magic pill"
While all these approaches may offer some benefits, many researchers believe there is not one single solution that can replace synthetic fertilizers or solve the problem of fertilizer overuse.
John Lory, a plant science professor at the University of Missouri, said he cannot foresee a future without synthetic nitrogen fertilizers anytime soon because we rely on them for our nutritional needs.
To truly solve the problem of fertilizer overuse, Lory suggests a fundamental change to how and what we farm. For example, increased corn production for biofuels has led to increased fertilizer use and increased nitrogen runoff.
"Nothing about nitrogen is easy," Lory said. "It's just one of those challenges where there's not a magic pill."
This story is part of The Price of Plenty, a special project investigating fertilizer from the University of Florida College of Journalism and Communications and the University of Missouri School of Journalism, supported by the Pulitzer Center's nationwide Connected Coastlines reporting initiative.
Read Next: About the Project