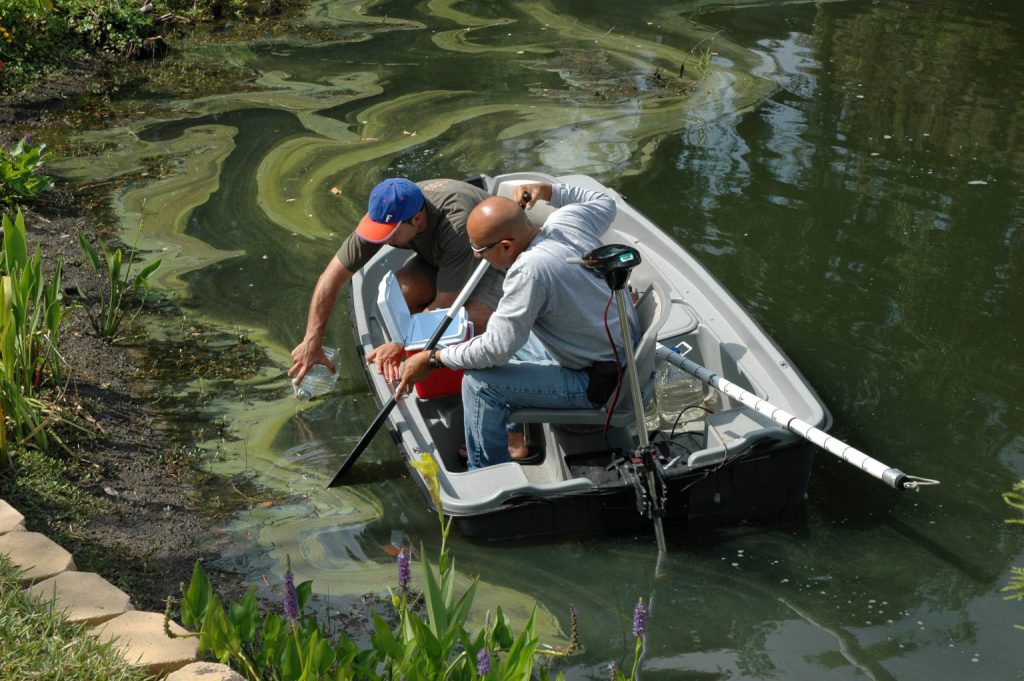 Seeding Research
Critics warn against industry-driven environmental research agendas in Florida
By Fernando Figueroa and Serra Sowers
When The Mosaic Co. wanted to study using phosphogypsum — a waste byproduct of the phosphate industry now heaped into small mountains — in road construction, it turned to the Sustainable Materials Management Research Laboratory at the University of Florida's College of Engineering.
Environmental engineering professor Timothy Townsend works in Florida and around the world on sustainable solid and hazardous waste management. Mosaic, a Tampa-based Fortune 500 company that mines phosphate for fertilizer, has sponsored roughly $500,000 in research funding for his lab over the past three years for projects that seek to find beneficial uses for phosphogypsum. More than 1 billion tons of the mildly radioactive byproduct rise in two dozen "stacks" across central Florida.
UF brings in $1 billion in annual research funding. The vast majority, $672 million, comes from federal agencies. Foundations come in next at $124 million; state and local funders at $84 million; and industry with $54.5 million. Townsend said it doesn't really matter where research money comes from: Ultimately, he wants to understand the potential for reuse and recycling of phosphogypsum and other wastes.
But the research became a point of contention in the Florida Legislature this spring when lawmakers passed House Bill 1191, which allows the Florida Department of Transportation to test use of phosphogypsum waste for road construction. Ragan Whitlock, an attorney with the Center for Biological Diversity, called the demonstration project "an egregious handout" to an industry that should better manage its own waste.
Later in the legislative session, UF's Institute of Food and Agricultural Sciences (IFAS) drew criticism for its role in fertilizer industry-related research. A measure tucked into the state's budget would prohibit local governments from adopting new landscape fertilizer bans like those that have been passed by 130 cities and counties across the state. Instead, any new fertilizer regulations would have to conform to Florida's less-restrictive model ordinance developed by IFAS and supported by the fertilizer industry.
Lawmakers were able to pass the measure without committee hearings by allocating $250,000 to IFAS in a budget item "to evaluate the effectiveness of the timing of seasonal fertilizer restrictions on urban landscapes" and report back by the end of the year.
The fertilizer industry's ability to lobby the Legislature to set public university research agendas "is a big flaw," said Glenn Compton, chairman of the nonprofit environmental advocacy group Manasota-88.
Compton said he understands that private industry is going to to sponsor science. "But we want to see as much research done on phosphate's impact on the state of Florida," he said. As just two examples, Manasota-88 wants to see updated research into cancer rates and other health impacts in the state's phosphate regions and fish-tissue sampling of public fishing lakes in former phosphate mining areas.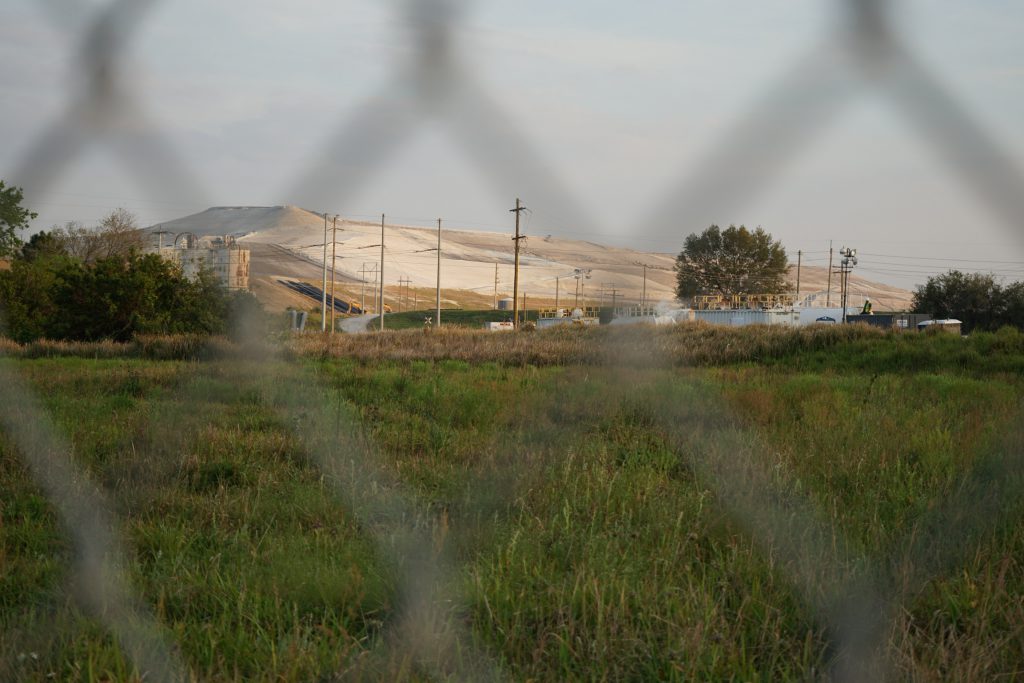 The Florida Legislature set up the independent Florida Institute for Phosphate Research in 1978 to answer such questions. What's now called the Florida Industrial and Phosphate Research Institute became part of Florida Polytechnic University in 2012. It's charged by state statute to seek better practices for phosphate mining and processing and to "conduct or contract for studies on the environmental and health effects of phosphate mining and reclamation."
The research institute is working on several industry initiatives, including the search for rare earth elements in phosphate waste. But as advocates push for more science on the health risks involving radioactivity and ask more questions about gypstacks-to-roads, Polytech officials said the institute could not provide information on health or environmental concerns.
Banning the bans
The Legislature's last-minute pre-emption of local fertilizer bans caused some confusion around the state among IFAS extension staff who work with communities on local challenges like water quality. On May 18, Andra Johnson, IFAS dean for extension and director of the Florida Cooperative Extension Service, sent an email to all extension staff clarifying that the Legislature's direction does not change local fertilizer restrictions already on the books.
"UF/IFAS' role is to provide information backed by science to residents, property owners, environmental advocates, industry, and state and local governments," Johnson wrote, "so that everyone has access to the most current research and can make informed decisions."
But environmental advocates said the Legislature's move benefits only the fertilizer industry. In a letter urging Gov. Ron DeSantis to veto the $250,000 line item that directs IFAS to study the issue, Friends of the Everglades wrote that the agricultural research institute already has spent millions studying it, with no evidence "that avoiding fertilizer application before heavy summer downpours is anything but the cheapest, easiest and best way to stop urban stormwater pollution at its source."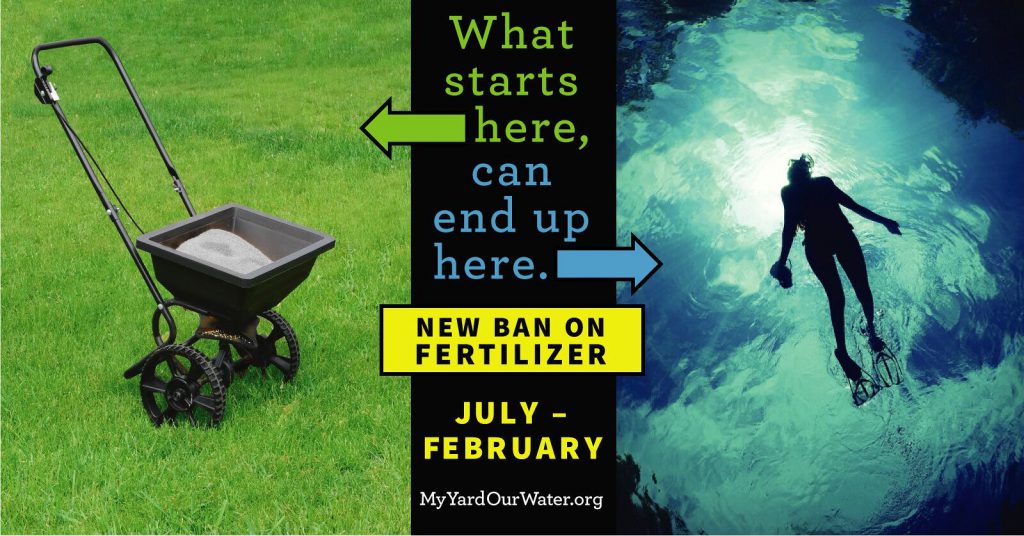 Recent IFAS research has already found that local fertilizer bans can improve water quality — especially winter season bans.
Samuel Smidt, an IFAS assistant professor of watershed science, directed a statewide study spanning multiple decades based on data collected by Florida LAKEWATCH citizen volunteers from 160 Florida lakes since 1987.
Smidt measured the effectiveness of fertilizer ordinances based on four criteria: total nitrogen, total phosphorus, chlorophyll A and water clarity. When waterways become enriched with nutrients such as nitrogen and phosphorus, toxic algal blooms can spread, marring natural areas such as Florida's formerly clear springs and harming people and animals. The blooms can also block sunlight, which limits photosynthesis. If plants don't photosynthesize, they don't produce oxygen, imperiling aquatic animals that need it to survive.
The study found Florida counties that implemented summer fertilizer ordinances saw a decrease in phosphorus and no improvement in nitrogen. Non-seasonal ordinances had a small effect on both nitrogen and phosphorus. Counties without any fertilizer ban saw a small increase in phosphorus, pointing to a degradation of water quality.
Summer bans are more common because of the idea that the rainy season will wash fertilizer off landscapes, said Smidt. But plants are most active during summer, meaning that's when they take up the most nutrients.
Plants are not as active during winter, so implementing winter bans prevents unused nutrients from flowing downstream, he said.
The study recommends that counties without a winter ban should evaluate if switching over to one might accomplish their conservation goals. Smidt said this is where the research gets complicated; not many counties have tried switching from summer bans to winter bans.
"We can't say conclusively from these data that you would see an improvement," he said.
Florida's long peninsula with different climate zones is another reason the study was inconclusive, Smidt said. In the north, plants might experience below-freezing temperatures while south Florida never dips below freezing. A plant's peak nutrient uptake changes relative to its location, he said.
In the governor's court
Local needs and differences are part of the reason "government and citizens in local communities know best when they may need to issue a ban on urban fertilizer use in their own communities," said a statement from Our Santa Fe River in North Florida. "The line item was included in the state budget without a committee hearing or a chance for the public to weigh in. This is not what democracy looks like."
Environmental groups have asked DeSantis to veto both the IFAS budget line-item and the roadbuilding demonstration bill; his office has not said whether he will do so.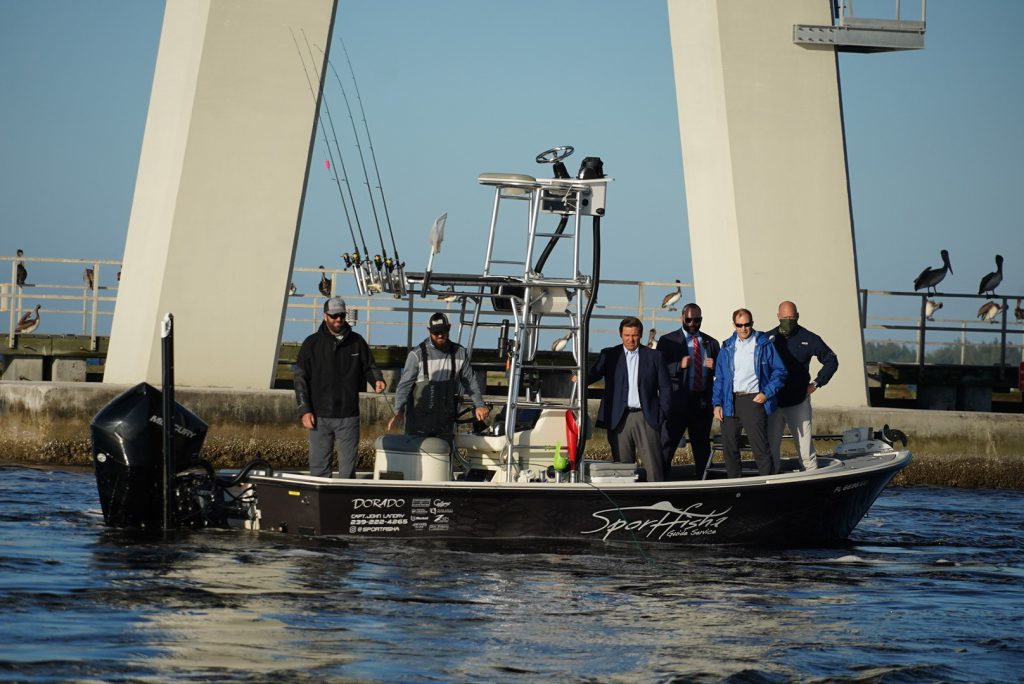 Compton, the Manasota-88 chairman, said beyond any one legislative session, Floridians need more public research into and regulation of the fertilizer industry. His organization wants to see the state and federal governments expand the permitting process for industry including phosphate mines to consider the broader impacts of fertilizer production, pollution and waste disposal. The environmental nonprofit formed in 1968 with the goal of clean air, land and water for Sarasota and Manatee counties by 1988. Twenty years later, members had to push their goal to 2088. They won't get there without more help from government agencies and elected officials, Compton said. Organizations like his, he said, don't have hundreds of thousands of dollars to spend on research and campaign contributions.
Townsend, the UF environmental engineering professor working on beneficial uses for waste, said for his part, the broader demonstration project is important for understanding the feasibility of recycling, and ultimately, the goal of a circular economy.
"Recycling sometimes is challenging. The key is how do you balance keeping things out of the landfill in a way that is safe for human health and the environment," Townsend said. "We are just trying to add science, not just for Mosaic but also for the Florida DEP, EPA, local governments and Sierra Club and everyone else who is interested.
"The data are what they are, and then they can be used to make informed decisions."
This story is part of The Price of Plenty, a special project investigating fertilizer from the University of Florida College of Journalism and Communications and the University of Missouri School of Journalism, supported by the Pulitzer Center's nationwide Connected Coastlines reporting initiative.
Read Next: How the fertilizer industry funds research in Missouri